Schedule Free Consultation
Teen Braces
At Family Orthodontics at St. Louis Park, MN, we understand a teenager's reservations about orthodontics and work to make them feel comfortable with the journey ahead and the amazing benefits that come from wearing braces. The teen braces available for today's adolescents are all about personality, comfort, and finding the right solution for your unique alignment needs and busy lifestyle.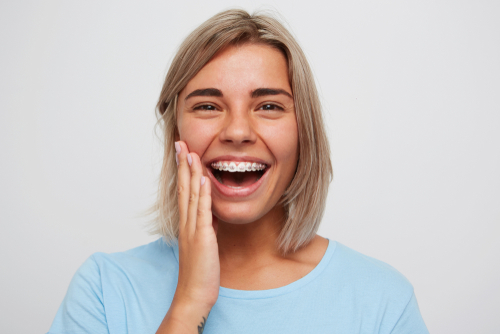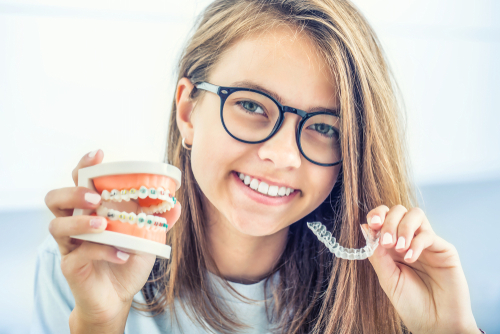 Types of Teen Braces
Teenagers and braces have long been a common pair, but there are several types of orthodontics to choose from when it comes to straightening teeth, including:
Metal Braces: The most common type of orthodontics, modern metal braces are smaller and more comfortable than ever. They are made of high-grade stainless steel and align teeth using metal brackets and archwires. Patients can add personality to their metal braces by choosing colorful elastics to support a sports team, show off your favorite colors, or celebrate a holiday.
Clear Ceramic Braces: With clear ceramic braces you get the benefits of metal braces without the visibility. Made of clear or tooth-colored materials, this type of orthodontics blends into your smile. They require serious attention to detail when it comes to oral hygiene to ensure that everything stays clear and clean.
Invisalign: Customized clear aligners are the top orthodontic choice for many adolescent patients. The trays are nearly invisible, smooth and comfortable (no brackets snagging on lips and cheeks), and, most of all, removable. There are no restrictions when it comes to what you can eat and that is a gift for adolescents. Parents may worry about compliance and whether this investment will be worth it, but teens are so thrilled to be Invisalign wearers they tend to be the most observant, rule-following patients.
What It's Like to Have Teen Braces
Adolescence is the best time to get teen braces. In this stage of life, jaws and teeth are still growing and shifting, which makes moving teeth into a permanent, aligned position that much easier. For many teens, they received interceptive orthodontics in childhood which has prepared them for this final step of orthodontic treatment.
Here's what else you need to know about what it's like to have teen braces:
Treatment time varies: Treatment times will vary from patient to patient, depending on how well your mouth responds to the alignment and the type of orthodontics you undergo. Invisalign may take an average of one year, while traditional braces could take two years.
Expect regular orthodontic visits: You will have to see your St. Louis Park orthodontist about every six to eight weeks for check-ups, adjustments, and to collect new trays if you are an Invisalign Teen patient.
Retainers are inevitable: No matter what teen braces you get, retainers must be worn at the end of treatment to keep the newly aligned teeth in position. Eventually, you can wear the retainer only at night.
Be happy you're getting braces now: Modern braces are incredible and much easier to wear today than generations past. They're less noticeable, designed to straighten teeth faster, move teeth more gently, and, of course, can be practically invisible or super-colorful, depending on your preferences.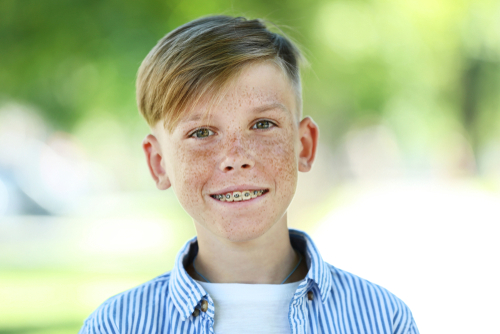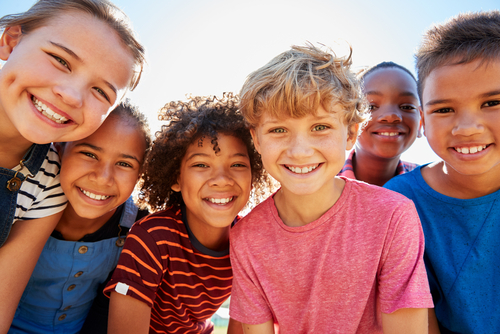 Talk to Your St. Louis Park Orthodontist About Teen Braces
All braces are a commitment, whether they are attached to the teeth or removable trays. If your child has lost all their baby teeth and their 12-year molars have erupted, that's usually the green light for orthodontic treatment, but timing will always depend on your teen's unique oral health, growth, and dental development.
If you have yet to consult with an orthodontist or you have been advised to pursue orthodontics by your child's dentist, schedule a consultation with Dr. Rosemary Lelich at Family Orthodontics in St. Louis Park. Every smile can be straightened – it's only a matter of finding just the right teen braces.