Have a Confident
Smile With
LightForce
Customized Braces
Schedule Free Consultation
LightForce Customized Braces
LightForce braces are fully customized 3D printed braces that deliver faster treatment and fewer visits to the orthodontist. Efficiency is key with this tech-savvy orthodontic option, and Dr. Rosemary Lelich at Family Orthodontics in St. Louis Park, MN, is thrilled to offer LightForce to patients who are eager to align their smiles quickly with the latest cutting-edge development in orthodontic technology.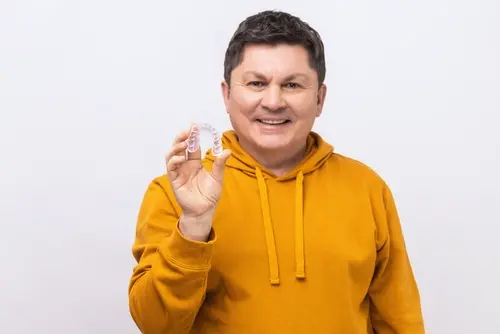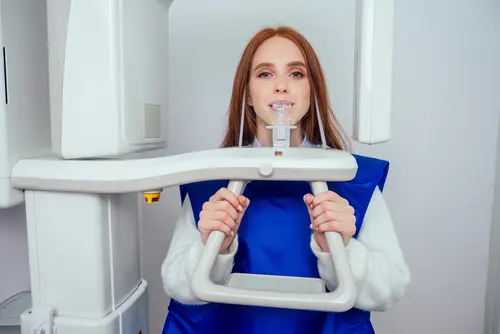 How LightForce Braces Work
What makes LightForce customized braces different from metal braces or Invisalign? Here are just some of the details about the technology:
Fully integrated system: The system is completely personalized for fully custom braces, including the world's only fully personalized 3D printed bracket.
3D-printed ceramic braces: The distinguishing features of your teeth are respected in the development of the brackets which are customized to fit for better bonding and easier tooth movement.
Personalized digital treatment plans: Visualize the result of your LightForce treatment before you even begin and see what your new smile will look like on screen.
Bonding trays: LightTrays are 3D printed and allow for quick and accurate indirect bonding of brackets to the teeth, which means the brackets are fitted on a model of your teeth in the exact position they are to land on your tooth enamel. Their position is then checked carefully before being sealed in place and adding archwires.
Sophisticated software: LightForce's high-quality 3D planning software involves a web-based platform that allows your orthodontist to create a plan and adjust it quickly and easily to suit your unique orthodontic needs.
Benefits of LightForce Brackets
There are two types of orthodontics in general – clear Invisalign trays as well as conventional metal or clear brackets and wires. The LightForce system makes use of brackets too, but they are notably different than the traditional method.
Fully personalized to individual tooth anatomy and bite
Blend in with your teeth
Customized planning flexibility
Precision in bite adjustment
Movement of teeth, not brackets
Significantly shorter treatment time
Fewer scheduled appointments needed
Elimination of conventional preadjusted brackets
Braces are not one-size-fits-all no matter what type of orthodontics is right for you, but LightForce Braces are especially customized in their development, application, and movement. The system is user-friendly, especially for experienced orthodontists who are intimately familiar with the intricacies of tooth and root movement using conventional braces and Invisalign. LightForce customized braces make the work of moving teeth easier for the professional and the patient.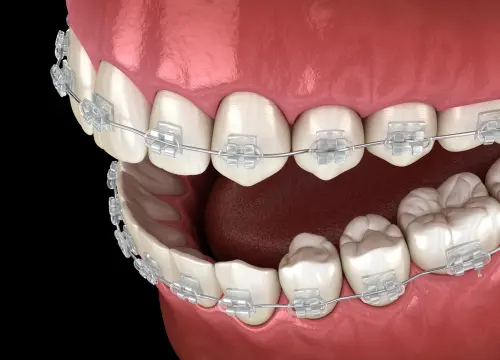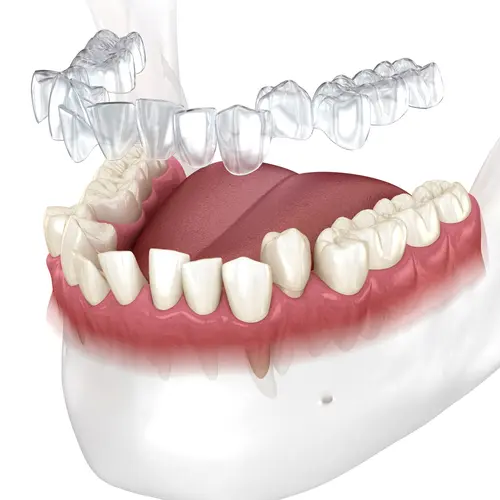 Characteristics of LightForce Braces
Anyone who plans to undergo orthodontic treatment is eager to get their treatment underway and even more eager to finish. Here are just some of the notable characteristics tied to LightForce Braces:
Completion time: Like conventional braces, LightForce can take 1 to 3 years, on average, to complete depending on misalignment. The process is designed for efficiency though and you may discover that your treatment time is considerably shorter once planning is complete.
Custom fit: This predictable, personalized solution allows for less discomfort, more effective straightening, and shorter treatment time.
Composition: Made from 3D-printed ceramic that is delivers either white-colored brackets accompanied by colorful elastics or translucent brackets that suit patients who seek a discreet treatment option.
Commitment: Patients who have LightForce make fewer trips to the orthodontist's office thanks to the accuracy and convenience of the computer technology that customizes the braces to match the size and shape of your teeth and accurately predicts the final tooth position at the start of treatment.
Get LightForce Braces in St. Louis Park, MN
Enjoy the highest standard of care in the St. Louis Park community from Family Orthodontics and Dr. Rosemary Lelich and her orthodontic team. We promise quality, efficiency, and personalization in all our orthodontic care – and LightForce Braces allow us to deliver even more effectively. Contact us today to schedule a consultation and find out if this orthodontic technology is right for you.