Brace Yourself For Smiles
Schedule Free Consultation
Will Braces Work for Me?
Braces For All Ages
Dr. Lelich, and the orthodontic team at Family Orthodontics recognize that adults and children have different needs, and require a different level of attention and care. We will work with you to ensure that you receive the most appropriate orthodontic treatments, and that your needs are met with understanding, respect, and full commitment from us.
Orthodontic treatment for children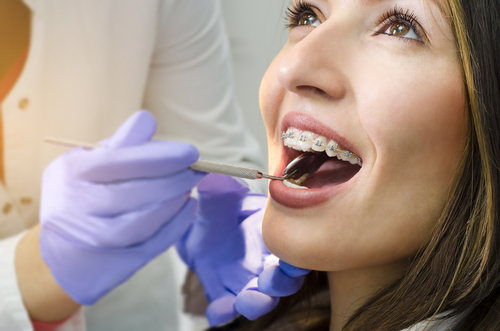 While there is no exact age for children to begin orthodontic treatment, the American Association of Orthodontists recommends visiting an orthodontist at age seven. Early treatment allows your orthodontist to correct and guide your child's jaw, create more space for crowded teeth, avoid the need for future extractions, and correct thumb sucking and minor speech problems. There are a few things to watch for that may mean your child needs to see an orthodontist, such as poorly spaced teeth, crowded teeth, protruding front teeth, misplaced teeth, difficulty chewing or biting, mouth breathing, thumb sucking, or jaw/bite concerns. We offer a variety of children's braces. Braces for kids include ceramic braces, clear braces, clear ceramic braces and virtually invisible braces.
Braces for teens & tweens
Braces are no longer as scary as many teens may think. In fact, teen braces today come in a variety of styles, materials and colors, making life with braces much easier, more comfortable and more stylish than in the past. Braces for teens include traditional metal, ceramic braces, clear braces, clear ceramic braces and invisible braces. Treatment times can vary depending on how quickly your body responds and how much work is needed to give you the show-stopping smile you want. Regardless of the type of braces you choose, it is important to avoid sticky, hard, or chewy foods, as these may damage your braces and prolong your treatment time. The exception is with Invisalign or clear aligners, which you can remove in order to eat whatever you want.
Adult ortho
Orthodontic treatment is no longer just for kids and teens! In fact, according to the American Association of Orthodontists one-in-five orthodontic patients is 21 or older! Many adults are choosing to receive orthodontic treatment because they understand the importance of maintaining their health and they want to feel better about their appearance. Today's adult braces options offer a variety of braces and appliances that are comfortable, attractive and customized to meet your needs to correct spacing of teeth, such as clear braces, clear ceramic braces, ceramic braces, self-ligating braces, and clear aligners. Remember, a straight smile isn't just beautiful; it will help you maintain the health of your teeth for life!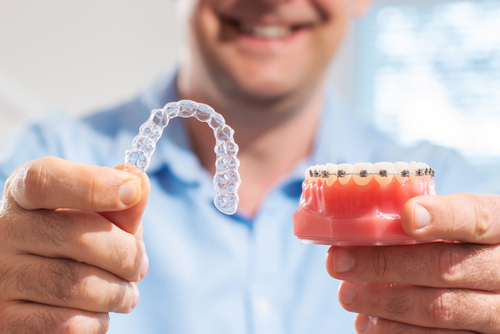 Types of Braces Available
Traditional Metal Braces for All Ages
Traditional metal braces for all ages are the most common type of braces and are more comfortable today than ever before. Made of high-grade stainless steel, metal braces straighten your teeth using metal brackets and archwires. With metal braces, you have the option of adding colored elastics (rubber bands) for a more unique and colorful smile.
Clear Ceramic Braces
Ceramic braces and clear ceramic braces are made of clear materials and are therefore less visible on your teeth than metal braces. For this reason, ceramic braces and clear ceramic braces are used mainly on older teenagers and adult ortho patients who have cosmetic concerns. While clear braces are visually less prominent, they do require more attention to oral hygiene because ceramic braces are larger and more brittle than their metal counterparts. For these reasons, ceramic braces tend to be used more on upper front teeth than on lower teeth.
Clear Aligners
Clear aligners are a series of invisible, removable, and comfortable acrylic trays that straighten your teeth like braces. Not only are the aligners invisible, they are removable, so you can eat and drink what you want while in treatment, plus brushing and flossing are less of a hassle. The clear aligners are comfortable and have no metal to cause mouth abrasions during orthodontic treatment.
Schedule a Consultation
Where can you find out if braces will work for you?
If you live in St. Louis Park, Minneapolis, Edina, Minnetonka, Golden Valley or any of the nearby Minnesota communities, you can get a consultation about braces from Family Orthodontics right here in St. Louis Park. Contact our office today for your initial consultation.
Learn more about braces by calling Family Orthodontics at (952) 922-7117 or use our convenient Request an Appointment form.