St. Louis Park Orthodontist
Schedule Free Consultation
Orthodontists are specialists, but not every orthodontist is board-certified like Dr. Rosemary Lelich. This prestigious designation is achieved by less than half of all practicing orthodontists and puts her in a category that lets every patient know that, when you choose Family Orthodontics in St. Louis Park, MN, you will be in good hands.
Treatments Provided by an Orthodontist
Orthodontists are problem solvers. They look at teeth that are misaligned, crooked, and crowded and figure out how to move them into alignment. Whether you have an open bite, overbite, underbite, crossbite, or otherwise, there are braces or appliances that can get your smile straight, strong, and healthy. Dr. Lelich offers the following treatments to straighten teeth and more:
Braces: Braces come in all shapes and sizes depending on the complexity of your case, your budget, and your preferences. Some people will need permanent brackets and wires to shift teeth into alignment. Others will have more freedom with a treatment like Invisalign.
TMJ/TMD Therapy: If you have chronic jaw pain, neck pain, and headaches, you could have a temporomandibular disorder that can be corrected with a mouthguard, braces, or other intervention.
Orthognathic Surgery Consultations: If a proper bite cannot be achieved with orthodontics alone, orthognathic surgery may be necessary. Oral and maxillofacial surgery is a dental specialty designed to treat complex craniofacial cases that involve the mouth, jaw, face, and skull.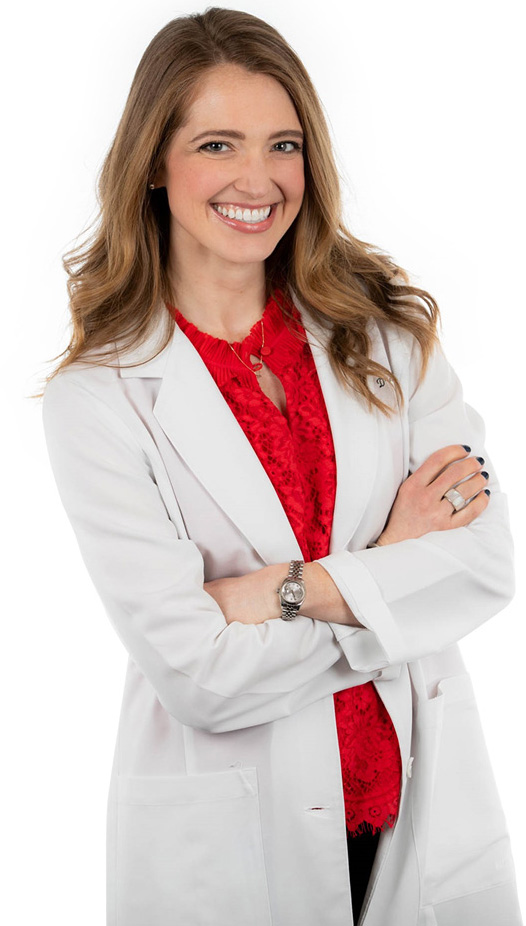 Types of Braces Offered by Your St. Louis Park Orthodontist
Traditional Braces: Conventional metal braces are what most people think of when they hear the word "braces." Though adolescents may dread being a metal mouth, traditional braces have aligned millions of smiles successfully.
Clear Braces: Many teens (and adults) are thrilled to discover they can get clear braces. The clear and ceramic-colored brackets and wires blend into tooth enamel so they're not quite as noticeable as traditional braces but just as effective.
Invisalign: Adults and teens alike appreciate when Invisalign is an option for their alignment. They have the freedom to remove their trays for meals, snacks, and cleaning, and no one will really notice that they're undergoing orthodontic care.
Phase One Orthodontics: Early orthodontics, also known as Phase One, are for kids around age 8. Early treatment like expanders and retainers correct the growth of the jaw and some bite problems, make room for permanent teeth to erupt, minimize the chances of extraction, and simplify orthodontic treatment during the teen years.
Good Candidates for Orthodontic Treatment
Your St. Louis Park orthodontist will determine if you are a good candidate for braces. Here are the categories of treatment we offer at Family Orthodontics:
Braces for Kids: Early intervention Phase One orthodontics are great for kids who have protruding front teeth, suck their thumb, have difficulty chewing, or other issues that can negatively affect their bite, alignment, and growth.
Teen Braces: Adolescents are the demographic commonly associated with braces. Some will qualify for Invisalign Teen and enjoy the benefits of nearly invisible braces. Others will wear traditional orthodontics that are metal or clear and can be accessorized with colorful rubber bands.
Adult Braces: Most adults qualify for any type of orthodontic treatment, whether clear braces, traditional braces, or Invisalign. The biggest draw for adults, however, are braces that are discreet and do not interfere with their job or lifestyle.
St. Louis Park Orthodontist Near Me
Family Orthodontists is conveniently located just off MN-100 at:
5804 Excelsior Boulevard
St. Louis Park, MN 55416
Our patients hail from Minneapolis and its western suburbs, including St. Louis Park, Edina, Minnetonka, Hopkins, Golden Valley, and Wayzata.
St. Louis Park is a smaller city, but many well-known names are attached to it, including filmmakers the Coen brothers, Representative Ilhan Omar, comedian and Senator Al Franken, and George Floyd, a catalyst for racial justice.
Make Family Orthodontics Your Minnesota Orthodontist
Dr. Rosemary Lelich is a board-certified orthodontist who relishes the opportunity to work with each new patient and work out the puzzle that is aligning their smile. If you need an orthodontic evaluation or are in search of a St. Louis Park orthodontist, schedule a consultation with Dr. Lelich.