Schedule Free Consultation
Invisalign 101
If you're interested in Invisalign, you undoubtedly know a little something about this revolutionary orthodontic alternative. It's important, though, to learn as much as possible about clear aligners so you're prepared for what this treatment will bring. Get the scoop with Invisalign 101 from certified Invisalign provider Dr. Rosemary Lelich at Family Orthodontics in St. Louis Park, MN.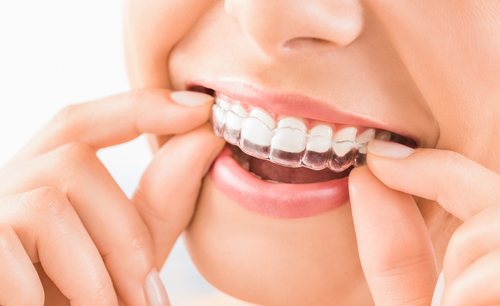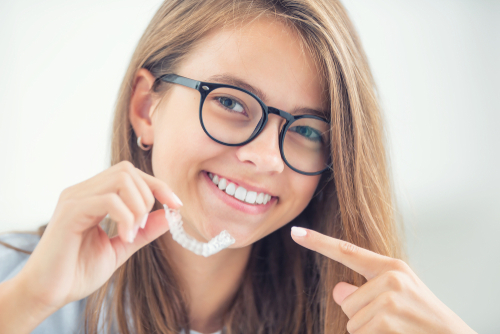 The Numbers Game for Invisalign Patients
Invisalign is a sophisticated treatment that is customized to every qualified patient. There are some things in common for every Invisalign patient though, including the following:
20 to 22 hours: The clear aligners must be worn for 20 to 22 hours a day to deliver effective treatment. Trays should only be removed for meals, snacks, and cleanings – no more than four hours total and, ideally, far less.
2 weeks: Every aligner set is worn for about two weeks at a time before being switched out for the next set of trays. This allows tooth roots and crowns to be moved gently and consistently into alignment.
6 to 8 weeks: You will be scheduled to visit your St. Louis Park orthodontist every six to eight weeks so she can check the progress of your treatment, and so you can collect your next sets of aligners.
6 months to 1 year: The average Invisalign treatment lasts about one year for most patients. There are cases where less time is required, especially if you have minor gaps or crooked teeth. Where you fit on this spectrum depends on how much your teeth have to move and how well you comply with the rules of wearing the trays.
The Many Perks of Invisalign
There are so many great reasons to love Invisalign, but for the purposes of this Invisalign 101, we point out some of the biggest benefits that all patients get to enjoy:
As discreet as can be: Want to live, work, and play without any interruption? Invisalign is happy to go along for the ride and will not get in the way because the trays are super-thin, super-clear, and designed to stay discreet.
Eat whatever you want: There are no food restrictions for Invisalign wearers. Take your trays out, dig into your favorite foods, brush and floss, put the trays back in. The only thing that might prevent you from enjoying the foods you love is the tenderness that develops when your teeth are shifting.
For adults and teens: Any teen who qualifies for Invisalign Teen is thrilled to take advantage of this discreet alignment method. Adults, of course, make up the largest patient group, improving their smile while working, parenting, socializing, and more without anyone recognizing their dental treatment.
Comfortable: Brackets and wires are the alternative to Invisalign for anyone who wants straight teeth, and that treatment comes with some ongoing discomfort. Invisalign, though, is smooth and comfortable. The trays fit snugly and never snag the soft tissues of your mouth.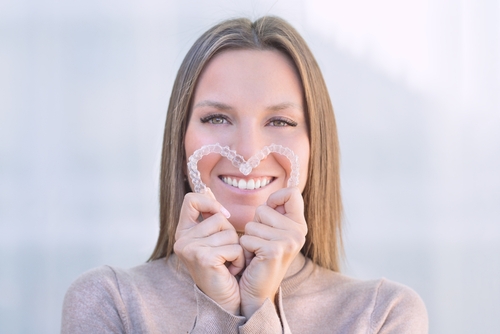 Are You a Good Candidate for Invisalign?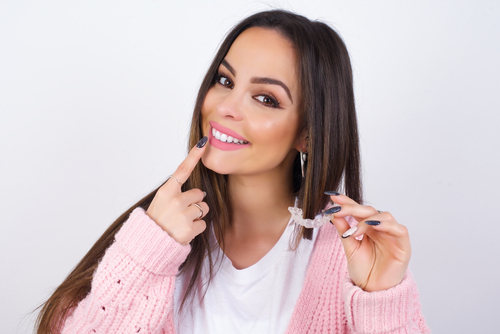 There are two major issues to consider if you're wondering whether you're a good candidate for Invisalign:
Willingness to follow the rules: You know yourself (or your teen) and it's important to face Invisalign demands: The treatment requires the wearer to be responsible every day, wear trays as instructed, remove aligners when necessary, and clean trays and teeth carefully.
Cost of the treatment: Invisalign typically costs about the same as conventional braces (with better perks). Your St. Louis Park orthodontist delivers a treatment breakdown at the start so you know what every cost will be, from aligners to retainers, and then you can discuss affordable payment plans for this all-inclusive treatment.
If you're interested in getting Invisalign, schedule a consultation with Dr. Lelich at Family Orthodontics in St. Louis Park. A dental exam, digital images, and in-depth conversation about goals, responsibilities, and expectations will make it clear whether Invisalign is right for you.