Schedule Free Consultation
Eating with Braces
Braces and teeth go together like cookies and milk… but, wait, are you allowed to eat cookies with braces on your teeth? You'll be asking yourself this question about every food from here on out, and that's a good thing because you want to avoid foods that could damage the hardware on your teeth. At Family Orthodontics in St. Louis Park, MN, Dr. Rosemary Lelich and her team are ready to guide you through eating with braces so you can appreciate the nuances of your treatment and still enjoy all your meals.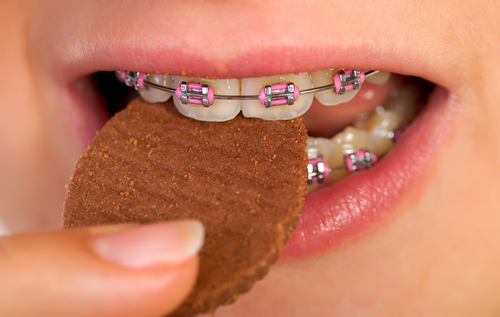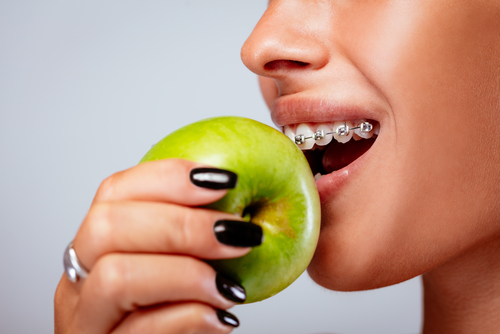 Restrictions When Eating with Braces
People who wear braces have eating restrictions, but not every orthodontic patient has the same limitations. Patients with brackets and wires on their teeth, for instance, have different rules to follow than people who wear Invisalign.
If you wear metal braces: You will want to avoid any chewy or crunchy foods that could pull or snap your wires and brackets. Soft foods will be the norm for quite a while.
If you have clear or ceramic braces: The rules are the same as for wearers of metal braces. Soft foods. No hard or sticky foods.
If you're an Invisalign patient: You can eat whatever you want with no restrictions. Simply remove your trays first, so they do not suffer any damage or discoloration.
Best Practices for Eating with Braces
One thing all braces-wearers have in common is the feeling of pressure when teeth are shifting into a new position. Invisalign aligners are meant to move teeth gently and consistently and this discomfort will reoccur every two weeks when old trays are switched out for new trays. The same pressure will occur for patients with brackets and wires, which are tightened monthly by your orthodontist. The discomfort isn't constant, but it is real, and you need to learn how to eat around it.
When you face the kitchen, your family's meal, or your favorite snacks after an adjustment or tray switch, you may not even want to eat because you're feeling a little bruised. The most important thing is to still try to get the nutrition you need while being kind to your teeth. Here are some tips:
Start with soft foods: Soreness for a few hours is normal and it's a sign that your braces are working. Enjoy smoothies, pastas, rice, mashed potatoes, steamed veggies, and other soft foods.
Cut food into small pieces: Small pieces will be your best route to easy eating because they are easier to chew.
Don't bite with your front teeth: You may want to dig into your favorite foods, from sandwiches to apples to burgers, but don't bite down with your front teeth. Instead, cut up the bite-able foods and chew using your molars.
Brush up: Always brush your braces or trays and your teeth after a meal or snack. You don't want food to get stuck among the brackets and wires because it's unsightly and unhealthy for your teeth. Plus, you don't want food particles or bacteria to get caught in between your Invisalign trays and your teeth and cause cavities.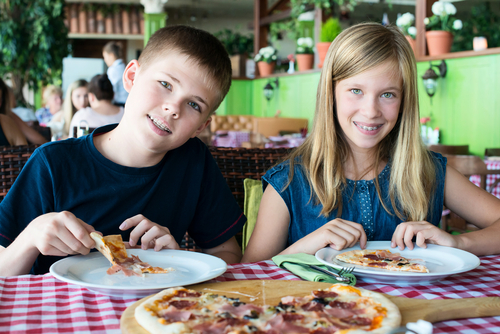 Get Braces Near Me in St. Louis Park, MN
Sometimes knowing what you can and can't eat when you're an orthodontic patient is confusing. The team at Family Orthodontics in St. Louis Park is always here to guide you on your braces journey and help you figure out what foods are best for the stage of orthodontics you're in.
We serve the residents of St. Louis Park, Minneapolis, Edina, Minnetonka, Golden Valley, and neighboring Minnesota communities. Schedule a consultation for yourself or your child to learn more about life and eating with braces.