Family Orthodontics Voted Minnesota's Best 2021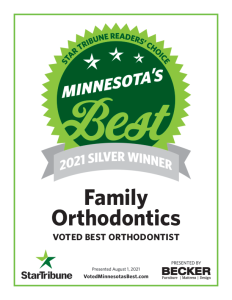 The results are in, and we are excited to announce that we've have been selected as Minnesota's Best Orthodontist Silver Winner for 2021!
We are incredibly proud of our amazing team and thankful for this achievement. It really means a lot to us because it was our patients who voted for us. We love our patients and their families, and we value the trust you place in us each and every day. Thank you to everyone who voted for Family Orthodontics!
Minnesota's Best is Minnesota's premier readers' choice award program and sponsored by the Star Tribune. The program is open to all Minnesota businesses large and small. Readers were asked to nominate and vote for their favorite local business earlier this year, which resulted in over 800 winners in more than 300 categories. There were no costs associated with being nominated, voted for, or winning an award. Contact us to see why Family Orthodontics are the Best!
A complete list of winners is available at VotedMinnesotasBest.com